Introduction
Hello My Name is …is a social movement that encourages doctors, nurses and those providing care to introduce themselves to patients and families before providing them information. It was thought of by Dr Kate Granger when she was a patient receiving care. Kate observed that "It made such a difference to how I was feeling about myself, it made me feel more human again". Kate then reflected on her own practice and whether or not there had been times when she had not introduced herself to her patients. Using her experience as both a doctor and patient Kate wanted to improve care and "try to get healthcare professionals to think about the importance of introductions and aspire to do better".
A logo was created and for the rest of her life Kate and her husband Chris worked tirelessly visiting professional organisations and speaking at conferences about the impact such a simple thing can have on patients.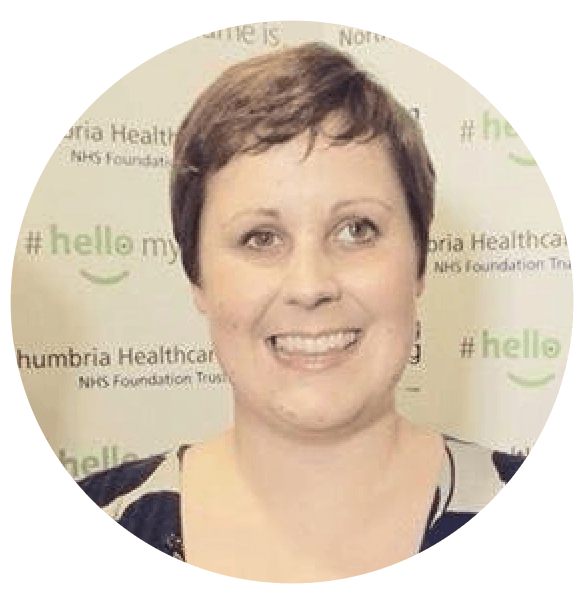 "I firmly believe it is not just about common courtesy, but it runs much deeper. Introductions are about making a human connection between one human being who is suffering and vulnerable, and another human being who wishes to help. They begin therapeutic relationships and can instantly build trust in difficult circumstances."
– Dr Kate Granger
Kate's legacy
For the remainder of Kate' life she documented her experiences in a series of blog posts and memoirs. Kate used personification in her 'Dear Cancer' posts to highlight how she felt both about the cancer and her life and her condition.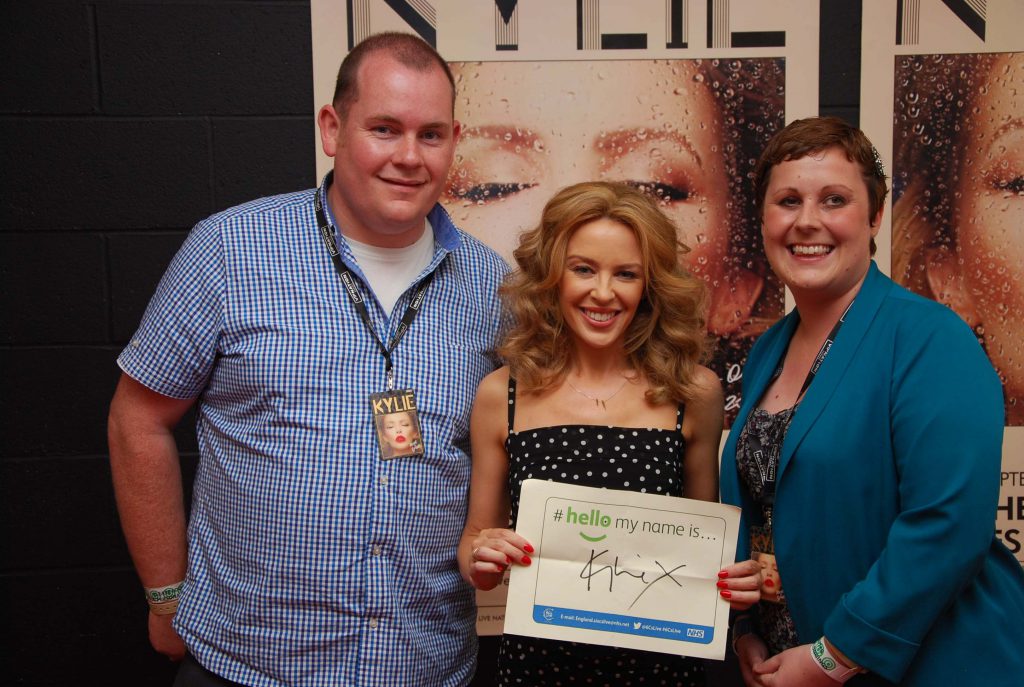 Hello my name is… has become a global movement stretching across every continent across an array of different medical and non-medical settings. Kate was awarded an MBE for her services.
In conversation with Chris
We caught up with Chris Pointon to discuss 'Hello my name is…" and highlight how we have integrated the campaign and ethos into MyWishes.
How can people get involved with "Hello my Name is…?
Everyone can get involved with the campaign and each time an introduction is made it's making a difference to that interaction. Be it healthcare worker to patient or family member, or from colleague to colleague or just in everyday society…. it's not just something that is healthcare relevant – it can be used in all walks of life….
What is your favourite 'Hello My Name is…" story to date
One of my favourite stories is when I received a lovely message from a friend who was on holiday in Australia and had to visit a hospital in the Australian outback…. as they walked into the hospital there was a wall full of pictures of staff and the #hellomynameis logo above them with each member of staff introducing themselves and saying a little bit about them!!
We also now have the Kate Granger Building at the University of Surrey which is the new medical faculty in Guildford and ensures that Kate's name will live on for many generations to come.
How does it feel knowing that your ongoing campaigning is still enhancing Kate's reach, impact and legacy?
Overall I feel so proud that Kate's campaign lives on across the world and is now almost 7 years old…. she will be smiling down knowing that the campaign continues to make a difference….
MyWishes and Hello my name is…
We decided to include Hello my name is… into MyWishes before it was launched. It is included in two ways.
Advance Care Plans.
One of the questions asked when documenting an advance care plan is "What name do you like to be called by?"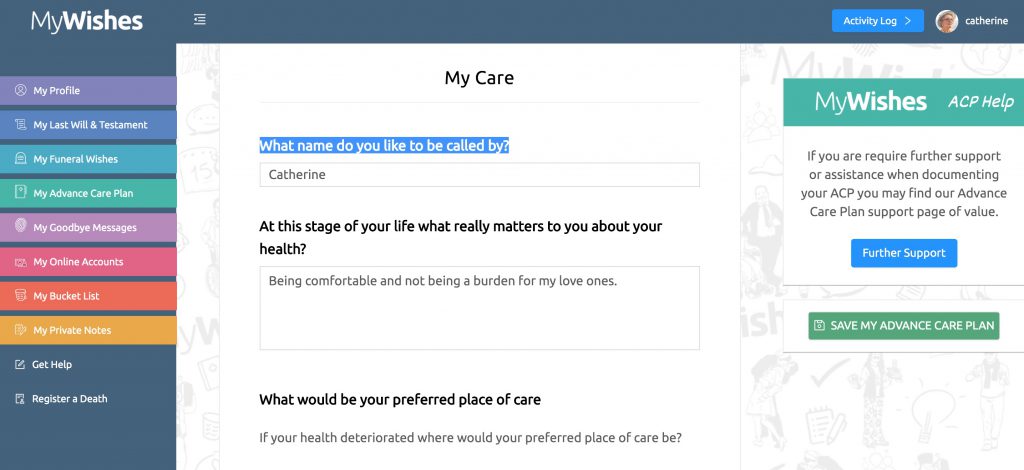 Once the advance care plan has been saved and downloaded the person's preferred name is shown on the PDF or printed advance care plan as "hello my name is…" and the person's preferred name.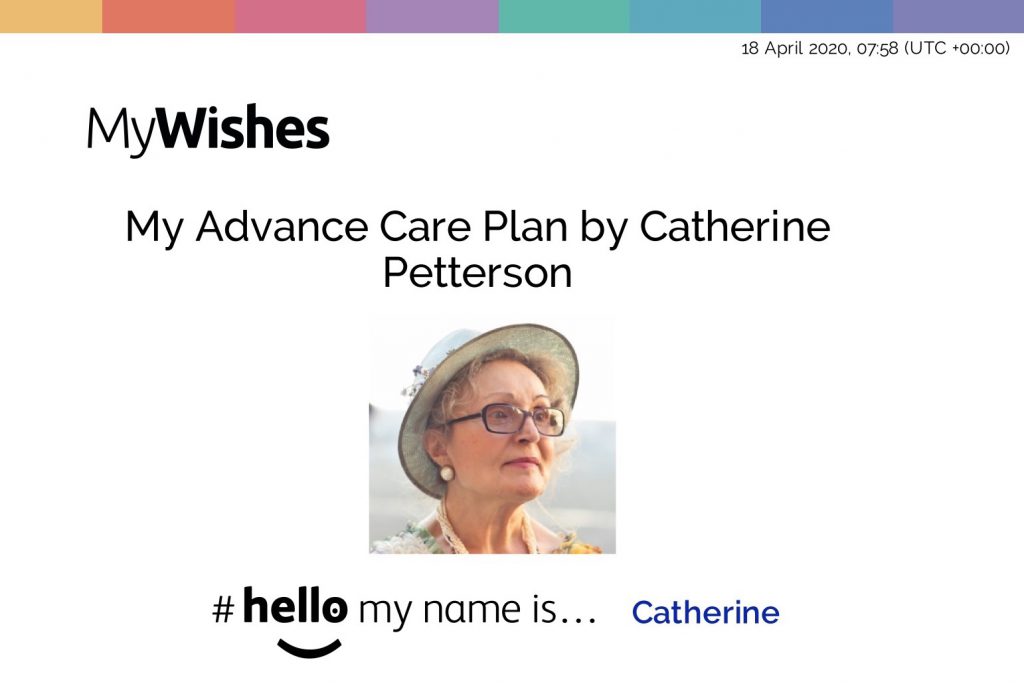 When the advance care plan is read by a professional we hope that the "Hello my name is…" logo will act as a visual reminder that the professional should introduce themselves if they had not done so already. We also hope that they address the person by their preferred name.
Public MyWishes page.
Everyone on MyWishes has their own public page and unique URL. This can be customised (so that it is the same as your Facebook or Twitter handle) and set to 'public' or 'private'. We again decided to include "hello my name is…" within this section.
"Everyone can get involved with the campaign and each time an introduction is made it's making a difference to that interaction. Be it healthcare worker to patient or family member, or from colleague to colleague or just in everyday society…. it's not just something that is healthcare relevant – it can be used in all walks of life…." To learn more visit: www.hellomynameis.org.uk