The Convention on the Rights of People with Disabilities is an international human rights treaty of the United Nations intended to protect the rights and dignity of people with disabilities.
Today on the 3rd December is the annual celebration of people with disabilities. The 2021 theme is 'Fighting for rights in the post-COVID era." This year, International Day of People with Disabilities is being used to recognise that people who live with disabilities are among the most affected populations amid the COVID pandemic. Where marginalisation, discrimination, vulnerability and exploitation are every day factors for many people, the increased risk of poor outcomes have been magnified with the reduced access to routine health care and rehabilitation services, more pronounced social isolation, poorly tailored public health messaging, inadequately constructed mental health services, and a lack of emergency preparedness for people with special needs.
IDPWD 2021 Call to action
"To learn from the experiences of people living with disabilities during this pandemic, and push for more meaningful investments into the socioeconomic building blocks which will reduce the barriers faced by people with disabilities in every community on earth".
To learn more visit: https://idpwd.org/
MyWishes Spotlight
This IDPWD we have decided to spotlight an innovation we created to help support people with accessing and sharing their postural care assessments. This was a collaboration between MyWishes and a physiotherapist working for NHS Wales.
What is a Postural Assessment and why are they important
"As a physiotherapist, the majority of my children, young people and adults, are very complex and as such have multiple pieces of equipment which help provide 24 hr postural support. With so many pieces of equipment and so many brands on the market, each piece requires detailed information in how to position the person and how to make adjustments. This is very time consuming as we then have to train each individual person, but this vital information is lost if they are then admitted to hospital."
If our service users are not positioned properly, this can have a major impact on their quality of life and could even prove fatal. Incorrect positioning can result in not being able to engage with their peers and family, issues with tissue viability and even aspiration pneumonia, which is one of most common reasons of fatality with an incidence rate of 70%.Currently information is laid out on an A5 laminated card which is clipped to the persons wheelchair. However this relies on the information being taken with the person, which is highly unlikely if that person is admitted to hospital, as wheelchairs rarely go with the person until the point of discharge. A digital version of this would allow access to vital information very quickly. 
– Samantha Chadwick (Paediatric & LD Physiotherapist)
Postural Care Passport
Last year we developed a feature on MyWishes that enables people to have their postural care assessment digitised and rapidly available in both clinical and non-clinical settings.
Once the plan has been completed, Physiotherapists email the Postural Care Assessment to those they support. Our new feature allows this document to be uploaded to MyWishes and made available digitally with the addition of high quality photos and videos can provide a much more detailed visual description of how someone should be positioned within a wheelchair and when lying down . Audio instructions captured within videos can provide more precise guidance and lead to improved comfort, better levels of care and reduce the number of avoidable deaths. 
Traditional Postural Care Assessments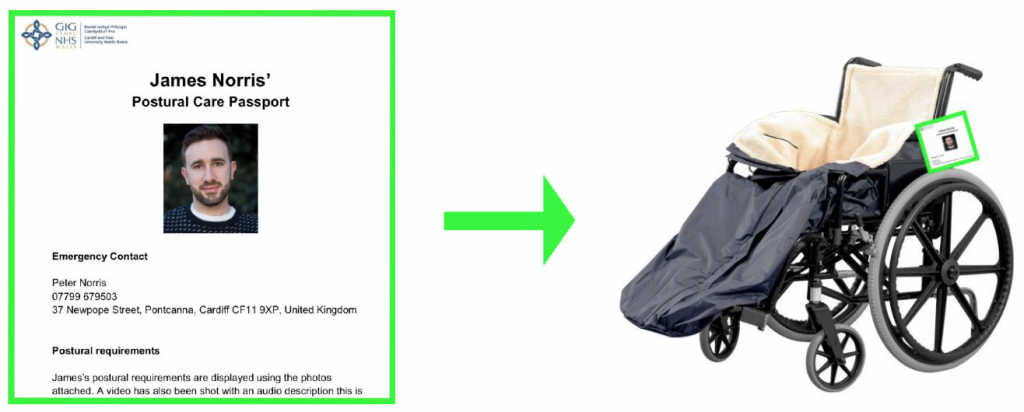 Postural Care Passport Team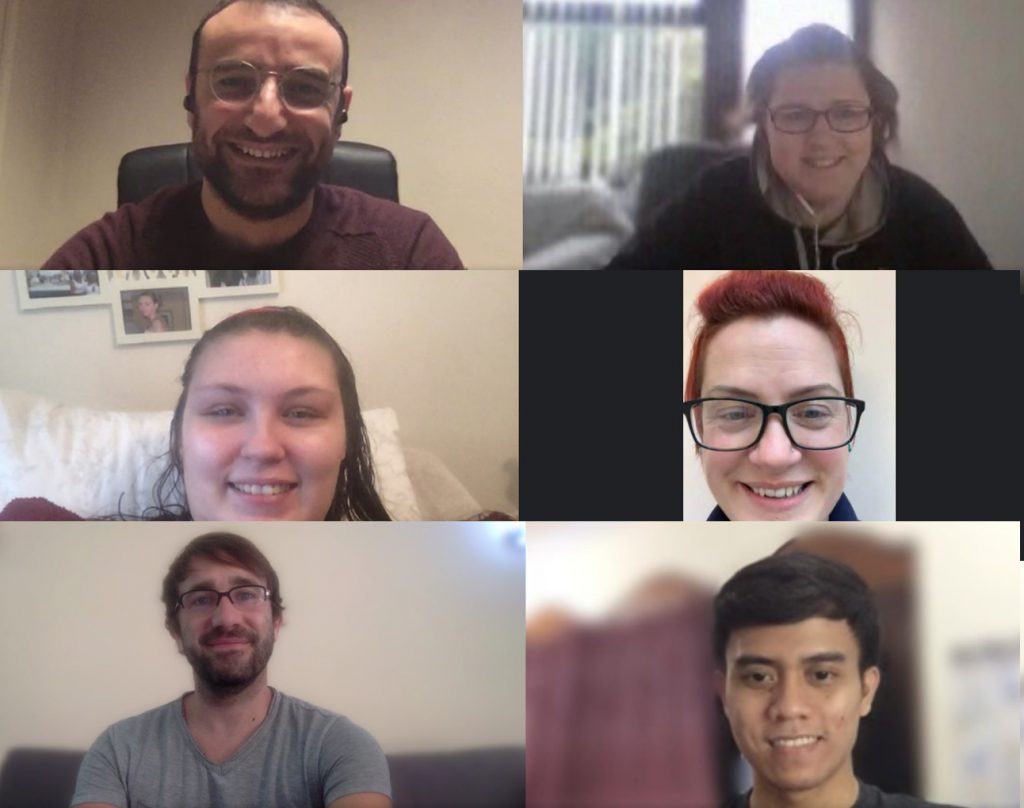 Our team consists of professionals and experts with a range of different skill sets. Between us we theorised, designed and 'hacked' a solution together.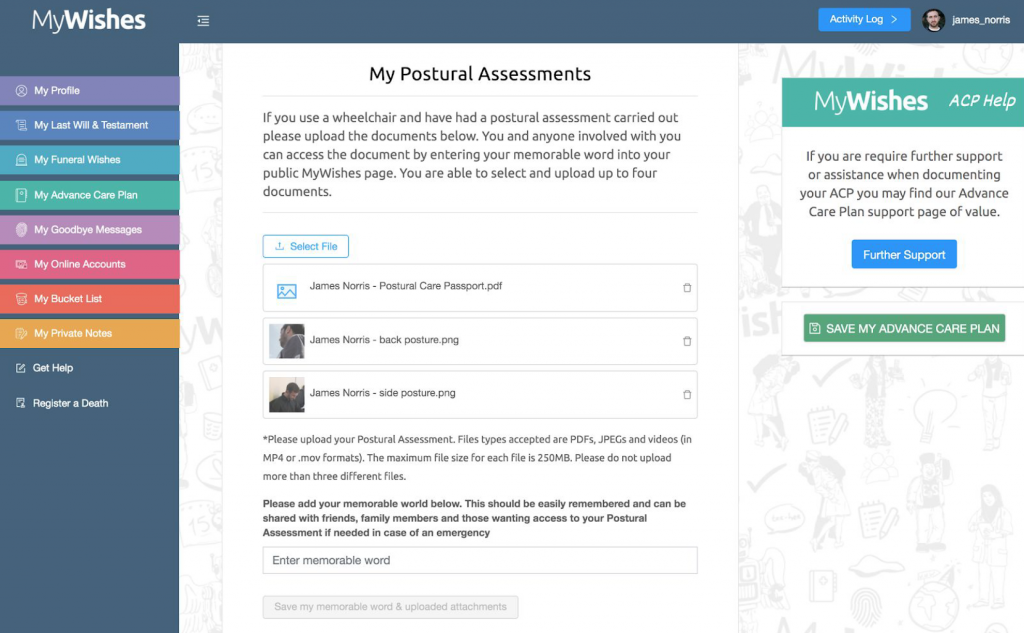 Accessing the Postural Care Passport
Once uploaded, the postural assessment can be accessed by anyone who has been provided the memorable word or phrase linked with their postural assessment. The word or phrase might be shared with friends, family members and those involved with someone's care
The person requiring access to the postural care passport simply needs to visit the person's unique, public URL or scan a QR code that is linked to the service user's postural care passport. They will land on a page optimised for both web and mobile devices.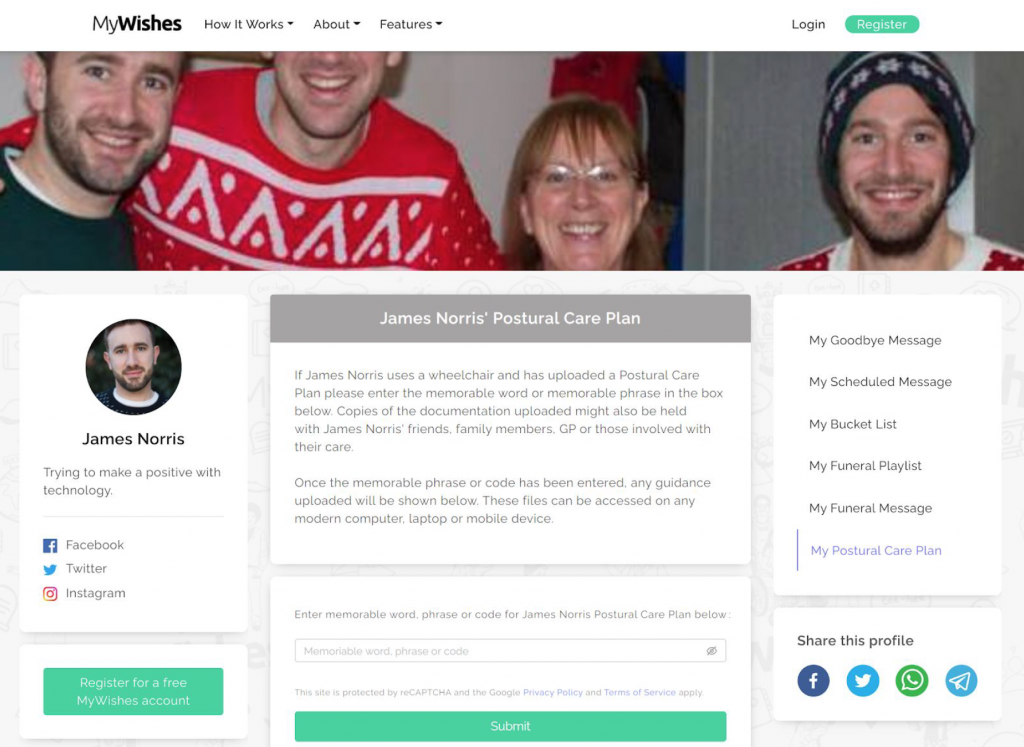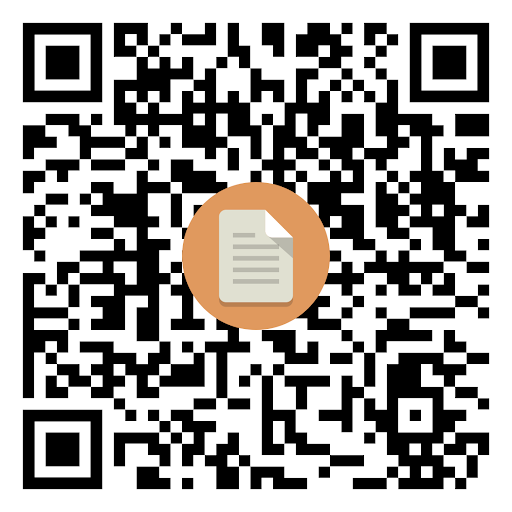 *Scan this QR code with your mobile device
Postural Care Passport Poster
We presented and showcased this innovation at the European Association of Palliative Care World Congress 2021. To view this poster in high quality click here
We provided an oral presentation at the Palliative Care for People with Learning Disabilities Conference 2021. PCPLD will publish a video of the presentation in due course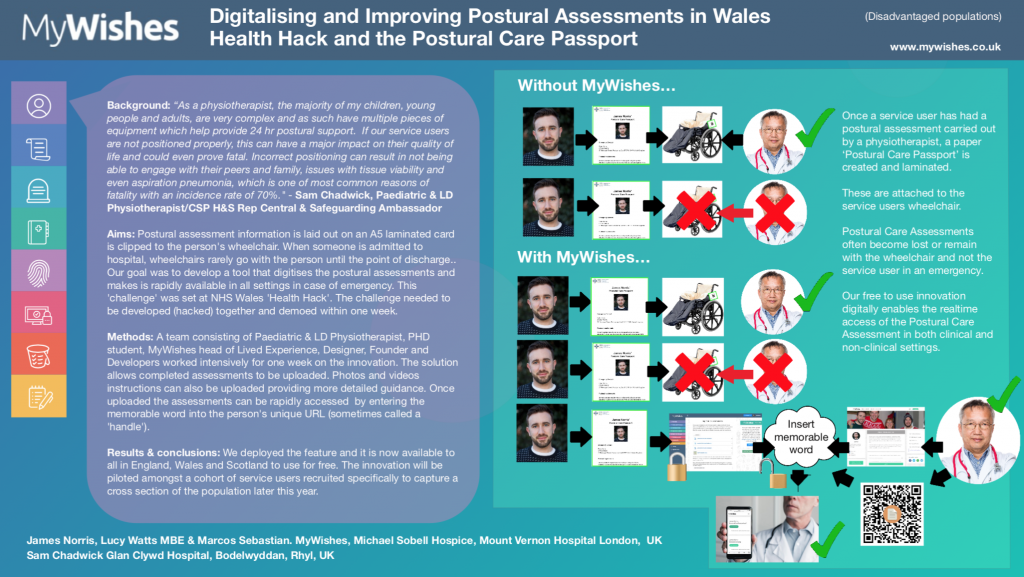 Michael Sobell Hospice 
Palliative Care Department




Mount Vernon Hospital, Gate 3




Northwood HA6 2RN




United Kingdom


(Map)