8th Palliative Care Conference 2021
James Norris from MyWishes has been asked to speak at the The Palliative Care Society of Trinidad and Tobago's annual, Palliative Care Conference. This year's programme includes Dr. K. Suresh Kumar, Director of WHO Collaborating Center in Community Participation in Palliative Care and Long-Term Care, Dr. Leah Steinberg, MD, MA, CFCP Palliative Care Consult Team Mount Sinai Hospital, Dr. Nicholas Jennings, Critical Care RN
The Palliative Care Society of Trinidad and Tobago invites all all Health Care Professionals & Caregivers to its 8th Palliative Care Conference 2021. This year's theme is 'Palliative Care in a Changing World'. It will take place virtually on Sunday October 10, 2021 From 8:00am to 3:30pm.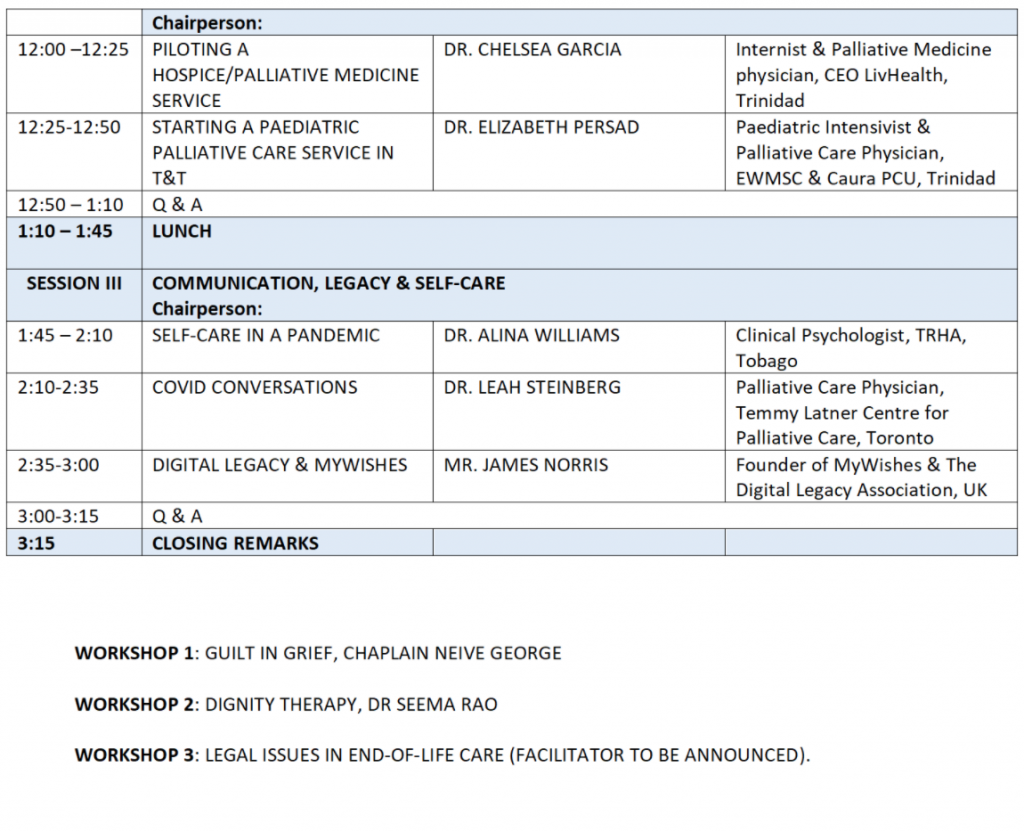 TICKETS / REGISTRATION FEE
To attend this conference please select the ticket that best suits your profession and where you are located.
Residents (prices in Trinidadian Dollars / TTD)
Doctors with CME – $300 TTD ; Nurses, Ancillary Health Care Providers with CME – $200 TTD, Medical Students with Valid ID with CME – $100 TTD ; Members of the Public – $200 TTD.
Non-Residents (prices in American Dollars / USD)
$45 USD, with CME $70 USD
CONFERENCE REGISTRATION:
For more details Contact Mr. Saty Seemungal 868-223-7078 / Mr. Leslie Harripaul 868-222-3781 / Mr. Nigel Aqui 868-622-8948. To Register online please complete the attached registration form and email it to palliativecstt@gmail.com
This event is run by the Palliative Care Society of Trinidad & Tobago & the Trinidad & Tobago Medical Association.
Other news that might be of interest

Michael Sobell Hospice 
Palliative Care Department




Mount Vernon Hospital, Gate 3




Northwood HA6 2RN




United Kingdom


(Map)