Starting conversations about dying is often not as hard as people might think.
Newham Council will be hosting two events for Dying Matters Awareness Week 2022. The event on Friday 6 May 2022 will take place in Canning Town, Community Neighbourhood Centre. MyWishes and a number of other support organisations will be providing residents with information and advice about planning for the future. It will be an educational and thought provoking day. Through conversation and reflection areas relating to death, dying, bereavement, grief and planning ahead will hopefully be more approachable and taboos around these areas removed. 
Practical advice will be provided in the following areas:
Making a will

Advanced Care Planning

Lasting Power of Attorney

Digital Legacy Planning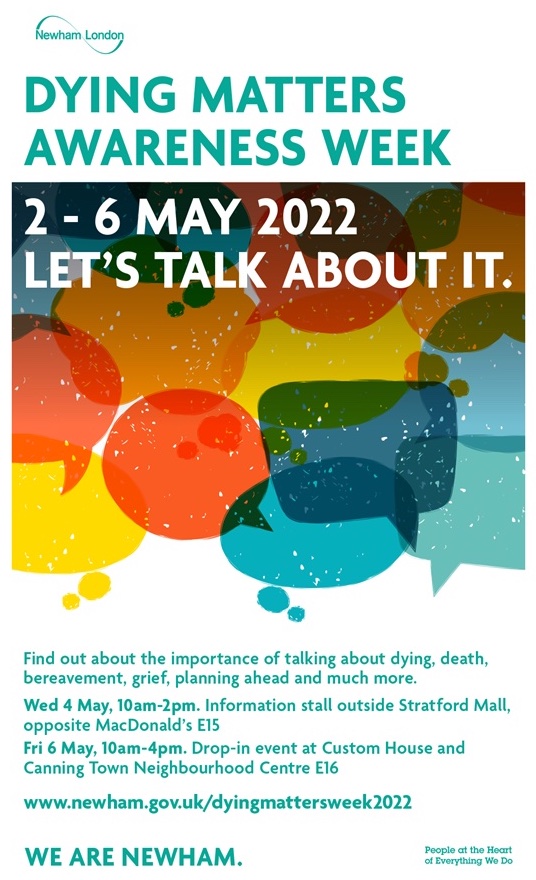 MyWishes Talks and Support
James and Tom from the MyWishes team will be on-hand between 10am-4pm. We will deliver two practical workshops helping attendees to think about their digital lives whilst providing advice about the things that can be done now to safeguard online content and future wishes.
In-between workshops we will be providing practical one-to-one advice for anyone wanting to document their wishes online or learn more about the importance of planning for death in today's digital world. Local MyWishes users in Newham wanting to brainstorm or have a chat will be warmly welcomed.
MyWishes talks will take place at 12pm and 3pm. One to one support will also be provided by members of the MyWishes team between the hours of 10am-4pm

How to Attend
Simply turn up at the address below at a time that is convenient for you between 10am-4pm on the 6th May. No ticket is required.
Custom House and Canning Town Community Neighbourhood Centre, 18 Rathbone Road, Canning Town, E16 1EH. (Map / Accessibility information). Light refreshments will be available to all those who attend and the venue is classed as accessible.
An information stall will also be setup outside of Stratford Mall (opposite McDonalds) on Wednesday 4th May between 10am-2pm.
Learn more about Dying Matters Awareness Week and the support Newham Council provides to residents at: www.newham.gov.uk/dyingmattersweek2022
Other talks and events we are supporting...

Michael Sobell Hospice 
Palliative Care Department




Mount Vernon Hospital, Gate 3




Northwood HA6 2RN




United Kingdom


(Map)