The night David Bowie died
On the night of David Bowie's death me and a few friends decided to head into Brixton in London where David Bowie was born. A celebration of his life was organised that day and tens of thousands of people lined the streets and bars.
The first thing place we visited was the artwork of Bowie by Jimmy C that is located opposite Brixton Tube station. There was a media frenzy outside and only those willing to brace the crowds could get near to the artwork.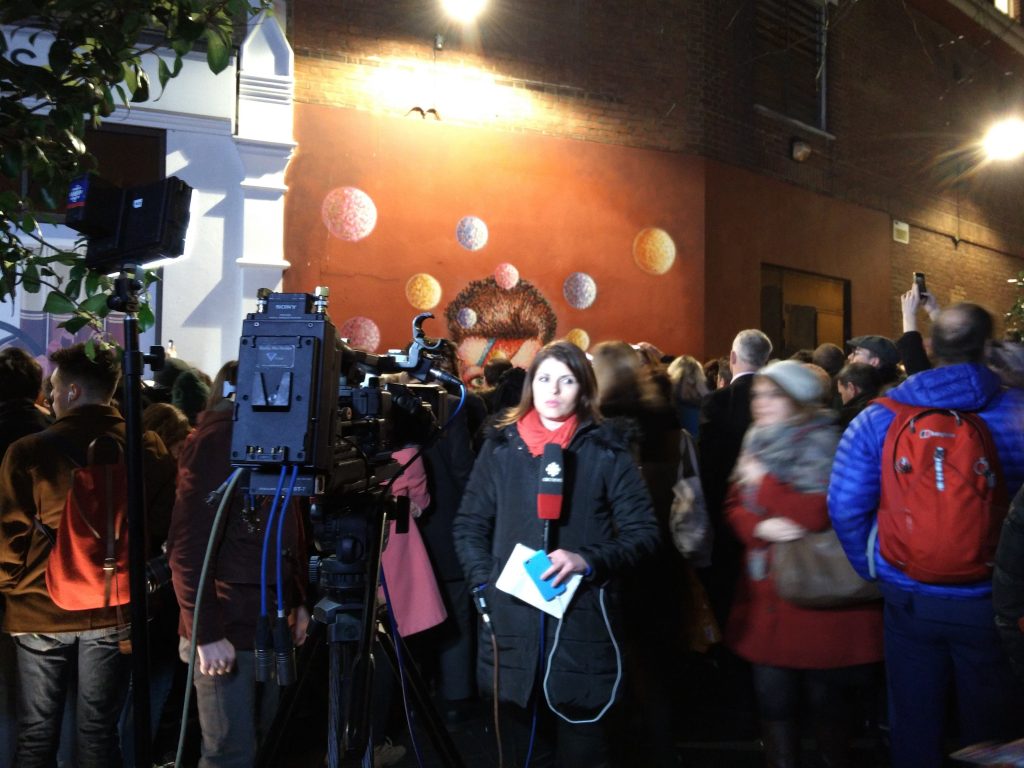 We walked through the streets and every shop, bar, club and open window was playing a Bowie song.  Those of us on the streets were celebrated Bowie's life, creativity and his music. There was chaos on the streets whether it was due to people dancing on phone boxes or huge speakers more accustomed to being in nightclubs facing out of people's windows playing music for those dancing below.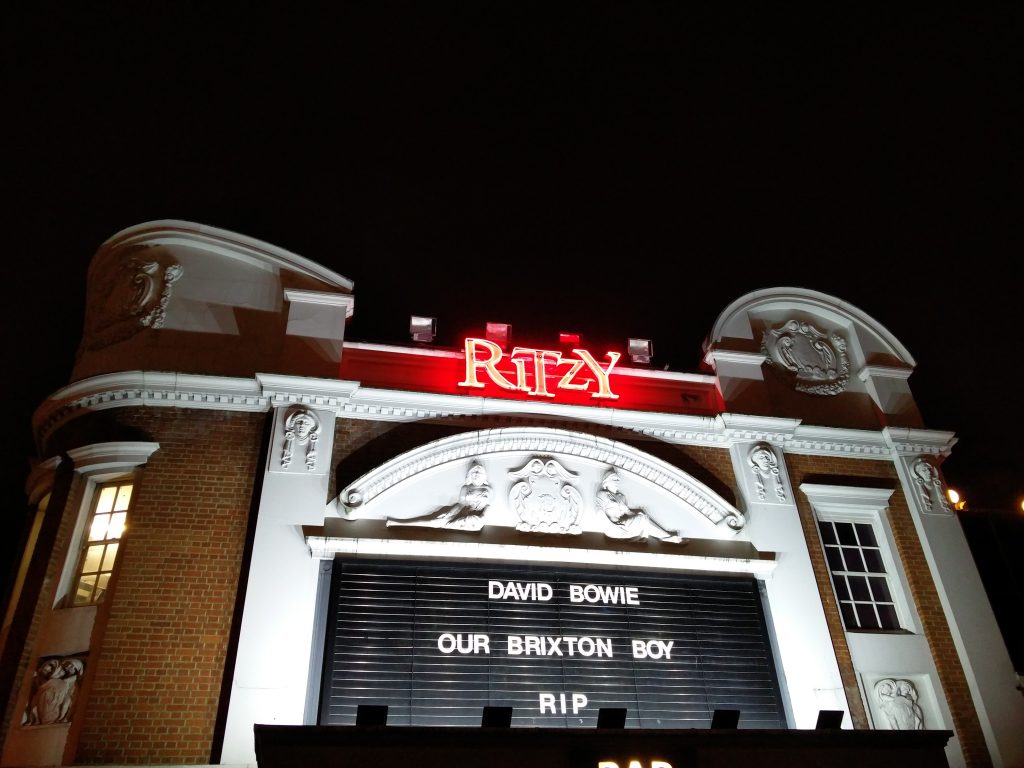 Brixton became a David Bowie festival….if just for one day.
Revisiting David Bowie's memorial wall
A few weeks after David Bowie's death I revisited the artwork of him by Jimmy C and noticed that a plastic perspex had been placed in front of the artwork. Behind the perspex is not only the artwork but thousands of memorial messages written in every available space.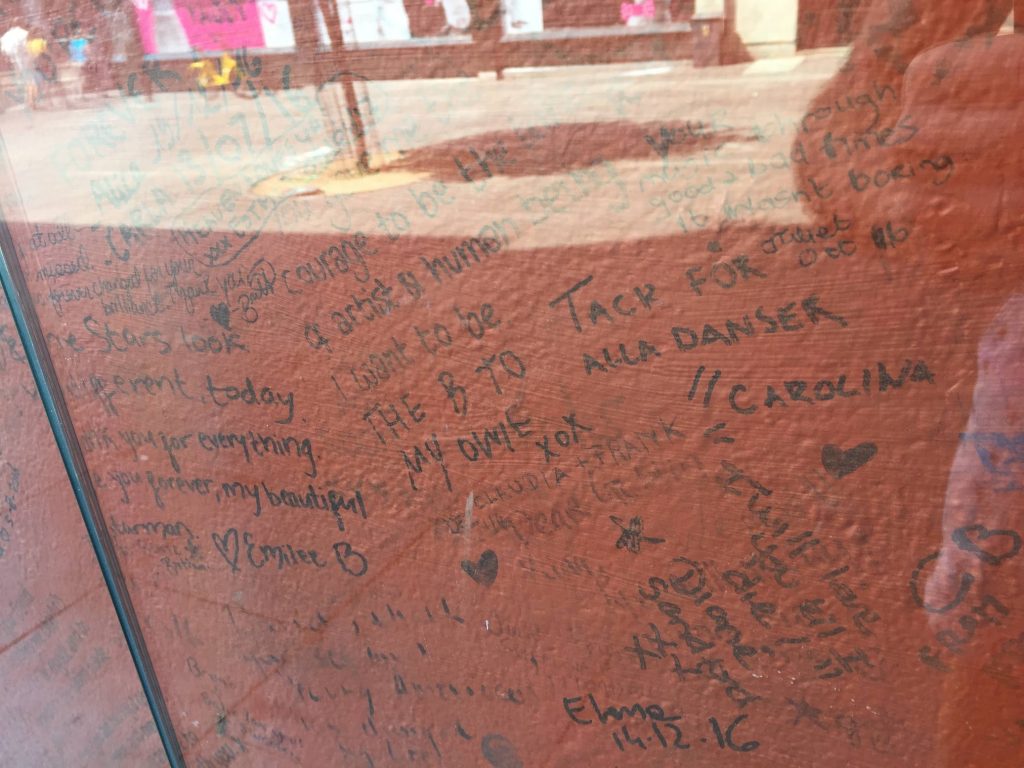 I had previously seen street art by the artist Banksy with protective plastic in front of it. In my mind however this was due to the high value of Banksy's work and wanting to preserve it for monitory purposes.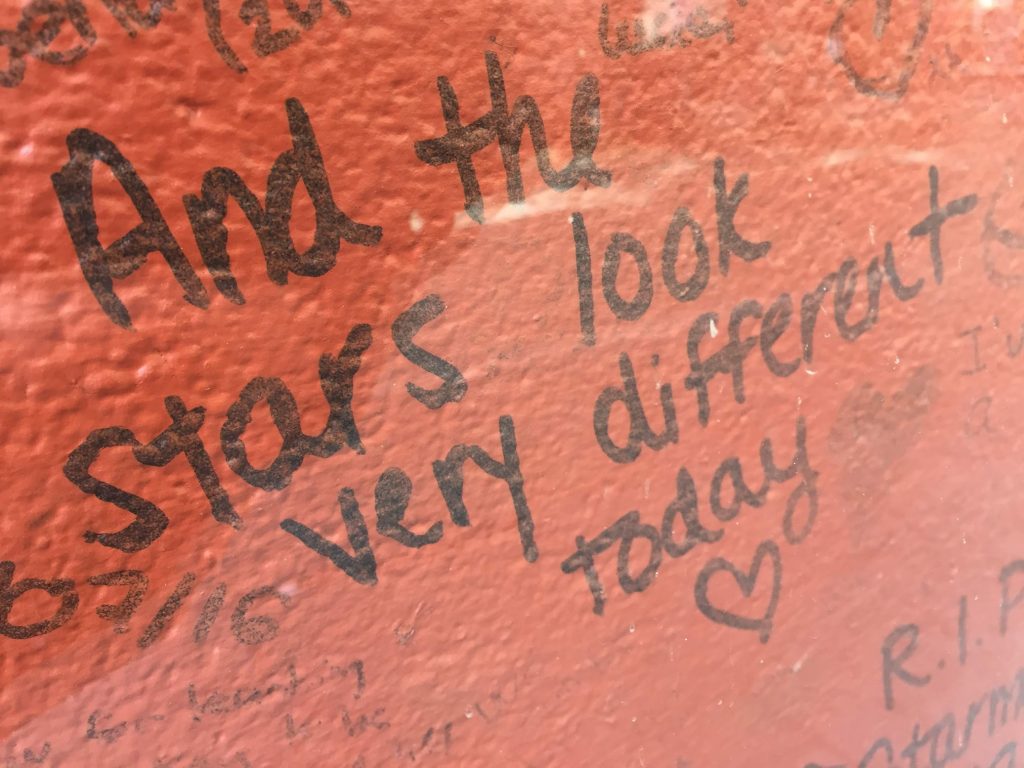 The artwork and the messages to David Bowie around it has become a shrine protected by a plastic screen. The artwork had a cultural, sentimental and a somewhat spiritual relevance to Brixton.
David Bowie's last music video
David Bowie changed the conversations around death and highlighted the options that are available to us. A letter from a palliative care doctor to David Bowie is well worth a read (if you have not read it already).
In David Bowie's last music video he confronts death as he lays howling in hospital.
David Bowie's health and funeral wishes
It appears that David Bowie made his end of life wishes known to his family. He also decided to keep his illness private and out of the media's gaze. Instead of an elaborate funeral that would be in keeping with an artist and celebrity of his stature, Bowie instead opted for a direct cremation without a large public funeral or ceremony. This was arguably the final, unexpected area of thought leadership David Bowie left the World.
Your health and funeral wishes
MyWishes is free and simple to use. Once you have documented your wishes keep them in a safe place and enjoy life.