We are supporting the National Day of Reflection 2022
The National Day of Reflection will be taking place on the 23rd March for the second consecutive year. Its focus is to unite people who are grieving and allocate a day to remember family, friends, neighbours and colleagues we've lost over the last two years. MyWishes are proud to be an organisation supporting the day and the awareness campaign.
Virtual Candles
We have designed and developed a number of virtual candles. These can be downloaded, streamed and used for free. Our virtual candles are a safe alternative to traditional candles and have been created in different sizes and formats (videos and animated GIFs). Last year the virtual candles were used across on the country and displayed on TV screens, laptops, mobile phones, tablet devices. They were also displayed in a number of clinical settings.
Scan the QR Code
If you scan the QR code on the image opposite, a virtual candle will instantly start flickering on the device you are using.
How to use a virtual candle
We recommend thinking about which device you will use to display the candle. We also recommend thinking about the reason for using the virtual candle. These might include remembering a loved one, sharing on social media with an accompanying message or displaying in your home.
If you would like to watch a candle flicker for a one minute reflection, we recommend streaming or downloading a virtual candle in a video format.
If you would like to have a virtual candle flicker continuously on a TV, mobile phone, tablet or on your website, we recommend streaming or downloading a virtual candle in an animated GIF format.
Stream a virtual candle (video)
Click on your favourite virtual candle below. Once opened it will flicker for exactly one minute. The virtual candle videos mirrors the one minute silence being held at 12pm and 8pm on the 23rd March.
Virtual Candle Animated GIFs (for mobile devices and tablets)
We have designed and developed virtual candles and provided them as animated GIFs. Unlike the video virtual candle, these candles will not stop flickering after one minute. These candles will continue to flicker when displayed. The website links (URLs ) shown below each candle can be copied, pasted and used on websites, blogs and social media profiles. If you click on any of the website links shown below, the virtual candle will instantly be displayed in full screen on your mobile device, computer or tablet you are using (these three candles have been optimised for mobile devices)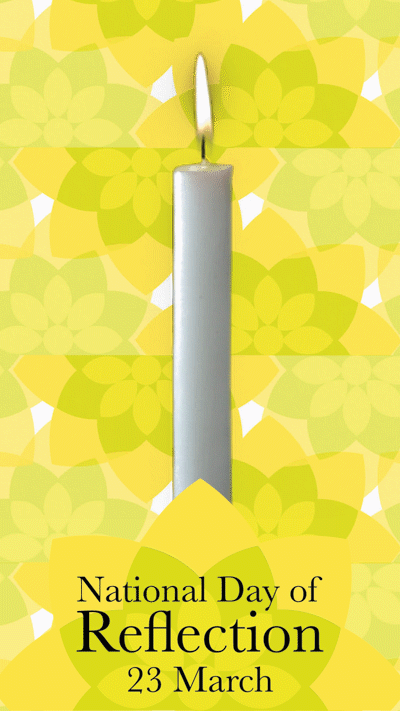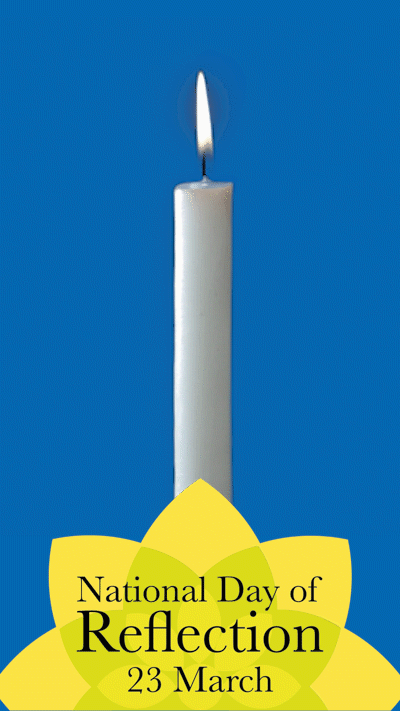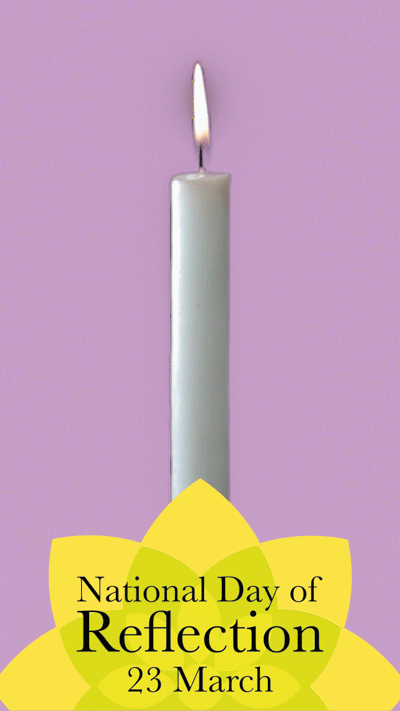 Use the virtual candle videos however you want
You might want to display a virtual candle flickering for one minute whilst stood on your doorstep at 8pm on the 23rd March. Alternatively, you might want to position a tablet (iPad, Galaxy Tab, Kindle etc) on a window-ledge and let the animated GIF virtual candle flicker throughout the day .
Virtual candles can also be shared on your favourite social networks by inserting the relevant link into them or uploading the downloaded file.
Displaying a virtual candle on a Wall of Reflection
A Wall of Reflection is a place to share thoughts about loved ones who have died. Walls of Reflection can be created in the home or in a public space. They can be place where people talk with others about loved ones and share memories.
Photos, images, paintings, writings and poems can be attached to a wall. You might also want to display a virtual candle onto a Wall of Reflection. This can be achieved by placing a tablet or mobile phone that displays the candle onto a shelf or by fixing its case to the wall.
Inserting a virtual candle onto a website or blog
Each website and blog is different. The accompanying image highlights a simple way how Wordpress website owners and publishers can insert a virtual candle into a page or post without downloading or embedding it.
Once logged in, simply copy the URL of the virtual candle you would like to use and paste it in the 'Add media' section. The candle will flicker automatically and will not require the viewer to press a play button.
To download virtual candles (animated GIFs) onto the device you are using click here

MyWishes is the UK's leading end of life planning software. Our service is free to use and our community document and share their wishes with their loved ones and anyone likely to provide them with care now or at some stage in the future.
"MyWishes will continue to work hard, support society when documenting their wishes and improve understandings around death and bereavement. We are proud to support the National Day of Reflection and understand the importance of this day for the country" – James Norris, MyWishes.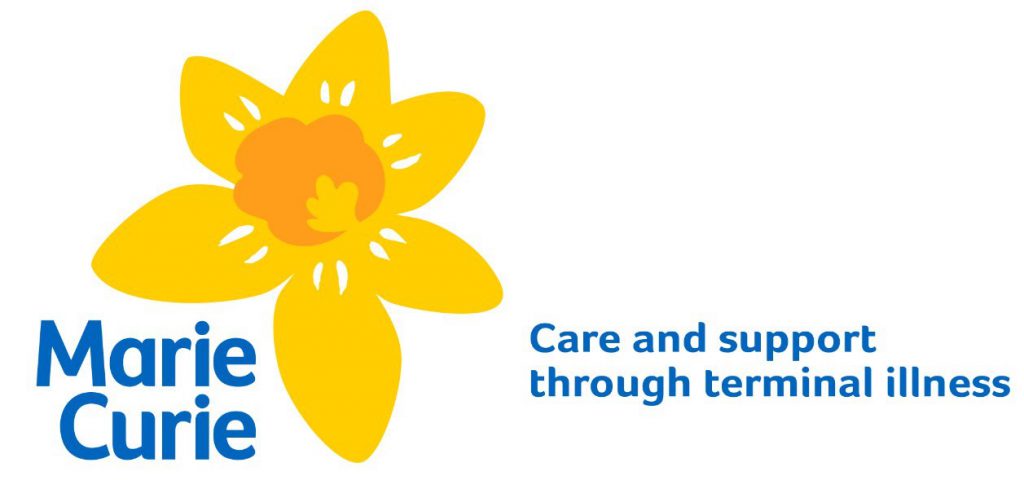 Marie Curie warns that without the right support for people who have been bereaved, the devastation that the pandemic has caused will impact the lives of people for generations.  "We need to mark the huge amount of loss we've seen this year and show support for everyone who has been bereaved in the most challenging of circumstances. We cannot simply stand by and not recognise the effects the pandemic has had on the bereaved. We know people are in shock, confused, upset, angry and unable to process what has happened. The National Day of Reflection on 23 March gives us a moment to reflect, remember and celebrate the lives of everyone that has died, as well as show our support to family, friends and colleagues who are bereaved during these challenging times – from Covid and other causes." – Matthew Reed, Marie Curie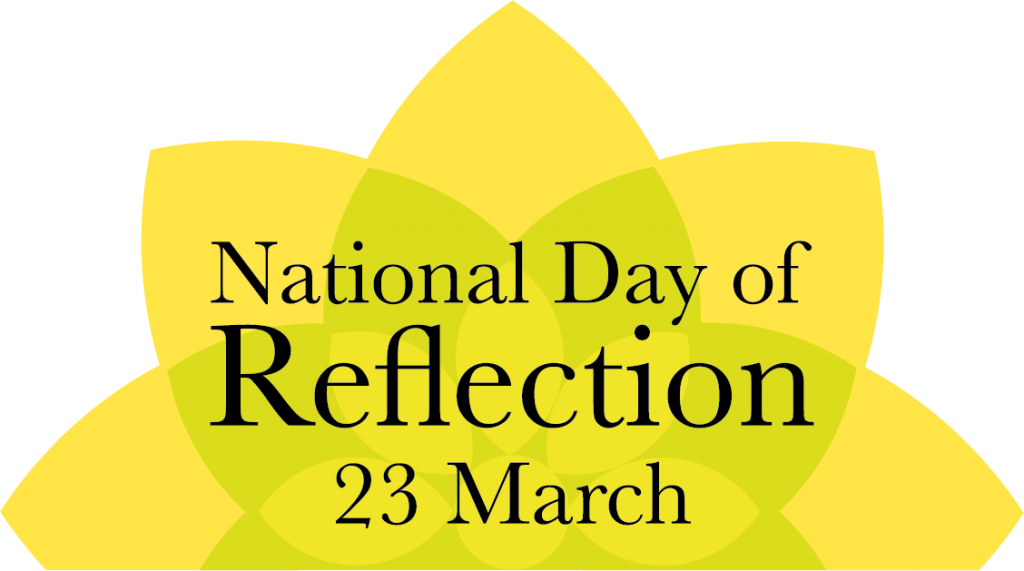 Marie Curie, MyWishes, a number of politicians and other supporting organisations are calling on the nation to take a minute to reflect at 12 noon and 8pm on the National Day of Reflection. To find out more about the National Day of Reflection and how to get involved visit www.mariecurie.org.uk/dayofreflection. If you use social networks, content can be shared on them with the #DayofReflection hashtag.
If you use a smart phone (iPhone, Android etc) or a tablet (iPad, Samsung Galaxy, Kindle etc) scan the QR code below with your device. Once scanned a flickering, virtual candle will instantly appear. *Your device will need to have a QR code scanner built into it's camera for this to work

MyWishes free to use software was developed under the guidance of healthcare, hospice, legal and funeral professionals. Our platforms empowers society to make plans for both themselves and those they care about.
Learn how to make plans for yourself and those you care about
MyWishes
Michael Sobell Hospice, Palliative Care Department




Mount Vernon Hospital, Gate 3




Northwood HA6 2RN




United Kingdom


(Map)


Register and document your wishes for free here
To learn how MyWishes works click here